School Profile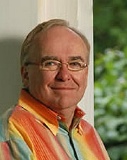 Meet Mr. Michael Phair
Michael Phair grew up in Wisconsin with six brothers and sisters and taught Kindergarten before earning two graduate degrees in special education and early childhood education.
During the mid-1960s, Phair trained teachers in the West African countries of Nigeria and Ghana for two and a half years.
He moved to Alberta in the late 1970s and taught in Calgary at Mount Royal College before moving to Edmonton to work for Alberta Education and then for Grant MacEwan College, now MacEwan University.
In 1992, Phair joined Edmonton's city council and became Alberta's first openly gay elected official, one of the first in the country.
The popular five-term councillor represented neighbourhoods in central Edmonton until 2007. He served as a strong advocate for social-justice issues, promoting efforts to reduce homelessness, build affordable housing and advance LGBTQ rights. He championed recycling and arts and culture in Edmonton as well as efforts to revitalize Edmonton's core neighbourhoods.
Phair founded HIV Edmonton and served as a board member with Edmonton Homeward Trust, the Edmonton Community Legal Centre, the Edmonton Pride Society and the North Saskatchewan River Valley Conservation Society.
He also worked as an educational co-ordinator with the University of Alberta's Institute for Sexual Minority Studies and Services. The Michael Phair Leadership Award was established in his honour to recognize U of A students who have worked to advance lesbian, gay, bisexual, trans-identified, two-spirited or queer communities.
Phair is currently a board member with the publishing house NeWest Press and the Pro Coro Music Society. He is also a co-ordinator with the Edmonton Pride Seniors Group, which advocates for safe and inclusive housing and services for LGBTQ seniors. Phair works to improve bike routes in Edmonton through the non-profit group, Paths for People.
In February 2016, the provincial government appointed Phair as chair of the University of Alberta's board of governors.